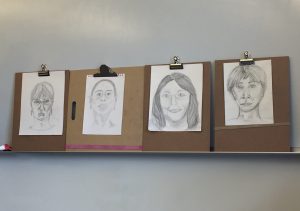 RCC offers a variety of classes that are open to the community, including; Beginning Drawing, Action Drawing for Animation, Introduction to Digital Photography, Business Planning for Success, Plant Identification, Foreign Language…and many more!
Teresa Rivenes, Dean of Instruction at RCC, explains that continuing education promotes lifelong learning and can be an entertaining experience.
"My work week can often be hectic and at times I need a place to relax from all the hustle and bustle and enjoy learning something new," Rivenes says.
Beginning Drawing is Rivenes' first community education class at RCC and she expresses how refreshing it is to learn from local experts and gain knowledge and skills she does not already possess. She intends to try out both the Soft Cheese Spectacular and the French Cooking Demystified class next.
Community education classes are great for a variety of different ages in our community. Shirley Bowers, retired teacher, loves to fill her extra time with various hobbies.
"For retired people, it keeps our minds active, skills sharp, and gives us more information about the activities that we are interested in," Bowers says.
Not only can community education be good for the mind and soul, but classes give students a great opportunity to meet people with similar interests or the opportunity to do a fun activity with friends and loved ones.
Bowers explains, "Our busy schedules can be so hard to coordinate, so my daughter and I use this class as a way to spend time together doing something we both enjoy."
For more information about the community classes offered at RCC or the possibility of teaching a class visit the Community Education webpage.