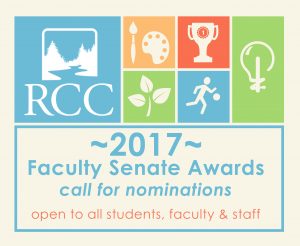 The Faculty Senate is seeking nominations from staff and students for faculty awards. The purpose is to recognize excellence in teaching and learning services in the following catego­ries:
Best or most promising practice(s); innovation; student engagement; uniqueness; faculty achievement; student advocacy; inspiration; promoting global awareness; community engagement and partnership.
Nominees for other outstanding achievements that may not fit into one of these categories are also welcome.
In addition to recognition at inservice, award recipients will be invited to a lun­cheon to share information about the work they have been honored for. The process is simple. It requires one paragraph about the nominee. The paragraph should illustrate examples, anecdotes, or other observation or evidence in support of the recommendation. Nomination forms are available by contact­ing one of the faculty senate co-chairs: Deb Murphy, ext. 7470, dmurphy@roguecc.edu, or Jessica Kitchen, ext. 7066, jkitchen@roguecc.edu. Nominations are due by email to Murphy or Kitchen no later than 5 p.m., Friday, April 14.