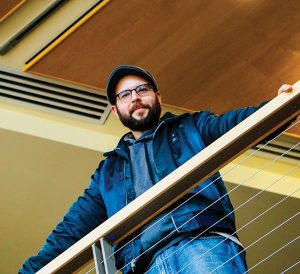 In his 20s, Ebbi Zamani dabbled in college courses but never earned a degree. By the time he was in his 30s, married with children, he realized he had not created any strong skill sets or prospects for his career. He resolved to change his future.
"I had heard encouraging things about RCC, and community college was an affordable way for me to get serious about learning a legitimate trade," he says. "To my amazement, very few obstacles stood between me and getting the education I desired."
RCC staff helped Ebbi assess his talents and interests, which led to him to focus on graphic design courses. The school's TRiO program taught him to take full advantage of federal scholarship and financial aid opportunities. Then after several months of hard work, Ebbi earned four scholarships from the RCC Foundation. These merit-based awards, created from donations given by members of the local community and the RCC staff, allowed Ebbi to attend RCC full-time.
"The fact that the Foundation invested its money in my training was a huge affirmation for me that I had chosen the right course of study and that my college success was inevitable," he says.
Ebbi is now qualified to work as a certified graphic designer and Adobe technician, making him a desirable candidate at many local companies. However, he has chosen to work instead as a successful freelance graphic designer and photographer while he continues his education. Today Ebbi is dual-enrolled at RCC and Southern Oregon University, working toward his bachelor's degree in Emerging Media and Digital Arts.
"My time at RCC has been a revelation," Ebbi says. "I have discovered my talents, my potential, my professionalism, and my value to society. I am a more positive and active individual, and my world view has been enhanced. My children have witnessed my personal and professional advancement, and they understand not only how rewarding the college experience can be but also how accessible it is, especially when a school like Rogue Community College exists. RCC has been an absolute inspiration."