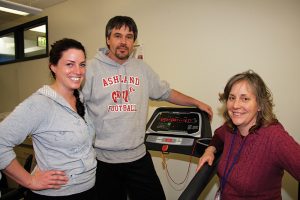 Helping people recover from accident or illness is just one reward the Physical Therapist Assistant (PTA) program offers RCC students Amanda Dickey and Chip Layton.
The program is offered in the Rogue Valley through a partnership with Lane Community College (LCC).
"Our instructors are knowledgeable and really care to make sure we know what we are doing," said Dickey, who previously worked in operations management and marketing.
Layton, already a certified personal trainer, plans to apply the information he learns in the training to help clients with prevention and rehabilitation.
The PTA partnership is one of several health science trainings RCC has developed in the last few years in response to growing industry need. Working with local healthcare providers, RCC has identified the high-demand health careers and increased the number of training opportunities, according to John Osbourn, dean of the RCC School of Health and Public Service.
"This PTA program is just one example of our forward momentum," Osbourn said. RCC students can complete the program by taking a combination of RCC classes and LCC's distance-education courses.

"Other programs are Occupational Therapist Assistant in partnership with Linn-Benton Community College, Clinical Lab Assistant, and training in Community Health Worker," Osbourn said.
And beginning fall 2014, RCC plans to launch its new three-term Medical Assistant program.
Osbourn also is excited about RCC's efforts to enhance its health science facilities.
"The Oregon Legislature has committed $8 million in state bonds for expansion of our training sites. RCC is working to match this grant award," he noted.
The funds will be used to upgrade and expand RCC health science facilities in Jackson and Josephine counties, increasing lab and classroom space and purchasing new equipment.
"Health care degrees and licensure are an avenue to well-paying careers and an opportunity for RCC to contribute to the health and wellbeing of our area," Osbourn added. "It fits within RCC's mission to help our local area to rise economically."
Other RCC health science programs include an associate degree in Nursing, and Practical Nursing, Nursing Assistant and CNA-Acute Care, Massage Therapist, Emergency Medical Technician/Paramedic, Fitness Technician, and Dental Assistant certificates.
Even in a struggling economy, Osbourn noted, health care fields continue to grow. The state Employment Department estimates the number of jobs available in allied health fields in Jackson and Josephine counties will grow 22 percent between 2010 and 2020.
Currently, approximately 90 percent of RCC health science students find positions in their career area six to nine months after graduation.