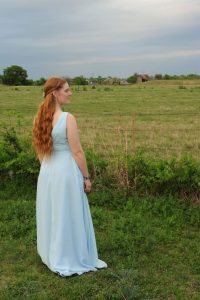 Katie Standish, 2017 RCC graduate, is beyond thrilled to be walking in Saturday's commencement ceremony.
"I am so excited, so ready! This term has been crazy and definitely a test of endurance. I had to keep on, keeping on until it was done…not giving up. Life also has been crazy this term and so has all of the math. I am so ready to do something new," exclaimed Standish.
The graduate was born and raised in the Illinois Valley and was homeschooled until the 11th grade. After completing her GED, Standish took a year off from college not really certain as to what direction she would take, until her father encouraged her to get an associate degree.
Standish started RCC in the fall of 2014 through the "Start Strong" cohort program, which helped guide the graduate towards her current accomplishments; an Associate of Arts Oregon Transfer Degree with a focus in music and a Career Pathway Certificate in Small Business Management.
The graduate explained that fortunately she was blessed to not have faced many challenges in regards to her education.
Standish stated, "The biggest opposition I had was wondering if I would be able to adapt to a strict schedule and assignment deadlines compared to the lax homeschool environment I was used to, but it wasn't as scary as I thought it would be. I have really enjoyed meeting new people, teachers, and learning in a greater detail. I really have enjoyed my time here at this beautiful campus."
Standish is still ironing out the details on her next step, but one option is to work towards a bachelor degree in Spanish at SOU.
When describing what pushed her to seek a degree in Spanish, the graduate explained, "I love the language! I have taken two years at RCC and want to become fluent. This class offering is near and dear to my heart. You are not only learning a language, you learn about a culture. And Professor Chávez is so excited about the language, that it makes you excited to learn it. Come to RCC to take Spanish!"
Standish also advised, "If you know you want to go to college, but don't know what you want to go for. I recommend going for a general degree to get a taste for everything. And try your hardest in each class, even if you have to force yourself to like it, look for something to get out of it and that will make it worth it. Go all in and you will be rewarded! Oh, and don't leave your math until the very end that is not worth it…trust me."