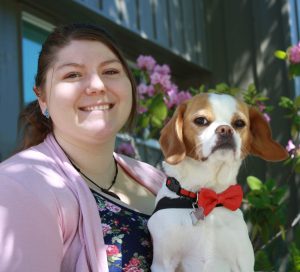 RCC graduate, Kodie Gallegos, has reason to be proud. She has worked extremely hard to be who and where she is today.
In her senior year of high school, Gallegos had to make the difficult decision between following her family during their relocation to another state or to stay behind in order to finish out her educational path here in Oregon. Ultimately, with the love and support of her family, she decided to stay. As a result of her choice, Gallegos has held several jobs simultaneously to not only support herself, but to invest in her education and career. The young graduate works at Allen Creek Vet Hospital, TRiO-SSS in student services, RCC marketing, and works as the director of Health and Wellness for the Associate Student Government at Redwood campus.
Gallegos will be walking on Saturday, June 17th to receive her Associate of Arts Transfer Degree.
"I am really excited to be graduating because all my family is coming from out of town and I get to see all the beautiful faces coming to support me," Gallegos stated.
Gallegos explained that her ultimate goal in life is to be a mother and to work as a psychiatric mental health nurse practitioner, partnered with a minor in American Sign Language (ASL), so she can work closely with the deaf community.
When asked what advice she would give to her fellow and future RCC students, Gallegos said, "Get involved! Join all the extracurricular activities that you can handle." RCC plays a huge role in the community, and Gallegos believes getting involved past the classroom requirements will help a student be active in the community and make the college experience more enjoyable and meaningful. Gallegos is the vice chair of Green Campus Initiative, a member of the Vet Club, and Associated Student Government of Redwood campus.
Gallegos also advised, "I think students often forget to celebrate reaching the little goals and often we get burned out. Celebrate all the little victories, every little quiz! It's those victories that support and influence your emotions towards school."