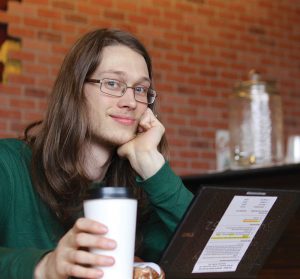 Wish you could go to class in your pajamas? You can—without ever leaving the house. RCC is now offering two transfer degrees online, no classrooms necessary. All you need is the Internet and a little determination.
"The world of education has become more flexible, and we want to meet the needs of students who may want to learn from home," says Kori Bieber, VP of student services at RCC.
Students can earn an Associate of Arts Oregon Transfer Degree (AAOT) or an Associate of Science Oregon Transfer Degree (ASOT) in business by completing a series of online courses through RCC, typically over two years. Then those course credits will transfer to an applicable four-year university bachelor's degree.
One of the major benefits of online degree programs is flexibility. Online courses allow busy people to schedule an education around their job or parenting obligations. However, online courses can still be time-consuming. Many require interaction with the instructor and classmates through an online forum or e-mail, in addition to regular assignments.
That's why, Kori says, "It is helpful for learners to be organized, good time managers and self-directed."
The admission and enrollment process for online degree programs is the same as for traditional face-to-face degree programs. A visit or two to campus may be necessary to get started. But throughout each term, online students will enjoy independent, home-based, and self-paced learning — until we see you back on campus in a cap and gown.
Visit us at www.roguecc.edu for more details.