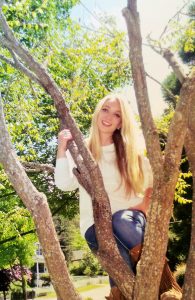 High school wasn't always easy for a 2016-17 Oregon Promise recipient, Megan Gorman. She often found school to be a struggle. After changing schools Gorman found out that she really enjoyed learning, and gained an understanding on the value of education. Gorman relocated to a high school where the instructors continuously encouraged students to apply for scholarships and grants to help assist in furthering their education; Oregon Promise was one of those programs.
Oregon Promise is a state grant that was passed by the legislature in 2015, to help individuals gain access to college education. The program strives to cover most of the tuition costs at any Oregon community college for eligible high school graduates or GED recipients.
Gorman explains, "Oregon Promise makes you feel like college is a possibility. It allows you to focus on your educational goals, while not having to be stressed out about the financial aspect of it."
Gorman is attending RCC; concentrating on psychology. She is frustrated seeing people in our community struggling to gain the mental health services they need and intends to make a difference regarding this issue with her education. She hopes that future individuals, who also have a life goal, won't be stunted by the financial burden associated with higher education.
"If you want something bad enough in life, you can make it happen. College is a lot of work and a lot of headaches, but the end goal will be worth it. Don't let not being able to afford college be the reason not to go," Gorman encourages.
The determined student attended high school an extra four months; earning five additional credits in order to earn a GPA that would qualify her for the Oregon Promise.
Gorman felt relieved, appreciative and proud when she learned the news of being awarded the grant. She hopes that all states move towards free education. She doesn't want to see any more bright young people not furthering their education because they felt they couldn't afford it.
Gorman stresses, "The next generation is our future, you want them to be successful as much as possible."
Gorman is appreciative that Oregon Promise gave her the opportunity to work towards her life goal and allowed college to be a possibility. The young student is a strong advocate for the program and explains that if the opportunity arises, she will help ensure Oregon Promise continues to be available for future students.
For more information about the Oregon Promise grant visit the Office of Student Access and Completion or RCC Financial Aid.