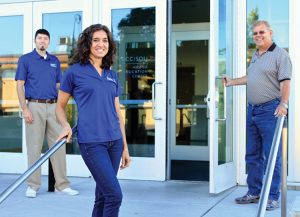 You have a dream job. But it requires higher education and training. Are you afraid it's just not feasible? Here's good news. Whatever your age or stage in life, a college education is possible—and we're committed to helping you get one.
Rogue Community College is an open enrollment institution. That means anyone can qualify to attend. We also do our very best to make school affordable for all. Scholarships, loans, and payment plans are available to help cover our already-reduced tuition costs (compared to a four-year college).
The first step is simply filling out our easy online application. Then our friendly staff is available to help with any necessary placement tests or financial aid paperwork. Once you're on campus, we give you all the tools you need to succeed, including creating a customized academic plan that meets you where you are, excellent tutoring, and personal support from instructors and staff. We also offer a wealth of practical assistance and resources, such as:
One-on-one help with registration
Online orientation
Special first-term classes for new students
Campus jobs
Transportation discounts on local county services
Child care provider lists and contact information
Counselors and advisors to assist every step of the way
At RCC, you won't get lost in the crowd. Faculty members work closely with each student, getting to know them as individuals and taking an interest in their career ambitions. Then, because our instructors maintain strong relationships with local employers, we're able to help match students to career opportunities. Many of our programs have outstanding hiring rates, placing more than 90 percent of graduating students directly into work. That means RCC does more than equip you to perform your dream job; we're also your bridge to landing it.
So stop dreaming and start doing. Contact us today at 541-956-7217 or at recruitment@roguecc.edu, and we'll be happy to answer any questions you may have. Our online application is ready and waiting for you at www.roguecc.edu/students/start.