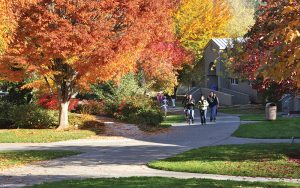 It's a little-known gem, but the RCC Redwood Campus houses an arboretum that features a collection of trees and shrubs from all over the world.
First begun some 33 years ago, the arboretum includes many native trees, some of which were donated as living memorials. The arboretum also educates the community about the diverse tree species that grow in the region, serves as an outdoor classroom for horticulture and botany students as well as home gardeners, and conserves the botanical heritage of rare and unusual trees as well as more common species.
Thanks to a $4,000 donation in 2011 by Dr. Elbert and Sarah Collins of Grants Pass, many of the trees have identifying signs. Michael Raines, RCC groundskeeper, and Rachel Winters, who teaches horticulture at RCC, helped identify and catalog all the trees for a color brochure.
Available in the RCC Redwood Library and online, the brochure provides a self-guided walking tour of the arboretum. The tour, which includes more than 100 trees, is wheelchair accessible.
The Redwood Campus is situated in the Klamath-Siskiyou ecological region, an area recognized by botanists for its biological diversity, including many unique trees found nowhere else on the planet.
"The wide variety of soil types and complex geology contributes to the area's amazing biodiversity," according to the walking-tour brochure.
Among the trees scattered throughout the 84-acre campus are incense, deodar, Port Orford and Hinoki cedars; golden rain trees native to Asia; a pistachio; a European larch, a monkey puzzle tree of Chilean descent, an Oriental persimmon; an English hawthorn, a dawn redwood; a blue China fir; a Japanese black pine; and Ginkgo biloba or maidenhair trees.
Heavy snows in 2012 damaged several trees on the Redwood Campus, according to RCC Groundskeeper Michael Raines, and some had to be removed. But the college is continuously replacing trees.
In 2013, for example, Natasha Bennett donated and help plant a coastal redwood in memory of her husband, Dr. Harvey O. Bennett, who was RCC's third president.
Interested visitors are welcome to tour the Redwood Campus, at 3345 Redwood Hwy., five miles west of Grants Pass. The tree-tour map and directions to the campus, as well as a short video, are available at www.roguecc.edu/arboretum.