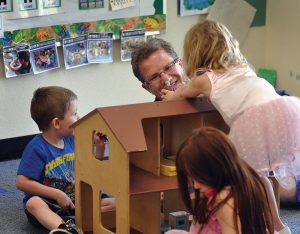 Many Rogue Community College programs and trainings match the top 20 occupations listed by the U.S. Department of Labor Bureau of Labor Statistics, including those with the highest projected increases in jobs for 2022.
"Throughout RCC's history, one of our main missions has been to prepare students for jobs that are in demand," said RCC President Peter Angstadt. "Our local advisory committees help keep RCC's programs up-to-date and relevant," he added. "Our students are ready to succeed in today's workforce."
RCC offers opportunities ranging from Career Pathways Certificates of Completion, which help students gain entry-level positions, to associate degrees and transfer agreements with four-year colleges and universities.
The following are among the Bureau of Labor's top occupations covered by RCC programs:
Registered Nurse
One of RCC's signature associate degree programs, RCC graduates work at healthcare sites throughout the region.
Licensed Practical Nurse
RCC's one-year certificate trains students to provide individualized care in long-term care settings, hospitals, home health, and doctor's offices.
Nursing Assistant
These courses meet the education requirements for Certified Nursing Assistant training. RCC also offers CNA 2-Acute Care training, preparing students for employment in assisted living, intermediate care, and skilled nursing facilities and hospitals.
Medical Assistant
RCC's newest training will prepare students for careers working with primary physicians, urgent care, and other settings.
Retail Salesperson
The RCC Retail Management certificate of completion prepares students for entry-level positions in the retail industry and helps current employees advance to supervisory positions.
Construction Laborer
Career Pathways certificates are offered for concrete laborer, construction helper and computer-aided drafting (CAD) assistant.
Customer Service Rep
The RCC Customer Service Career Pathways certificate prepares students for entry-level customer service positions dealing effectively with the public.
Truck Driver
RCC's Commercial Truck Driver training puts drivers behind the wheel in five weeks.
Childcare Worker
RCC's Early Childhood Education Career Pathways certificates prepare students to work with young children and their families in a variety of settings.
Accountant/Auditor
The accounting option within RCC's Business Technology degree prepares students to become bookkeepers, accounting assistants and billing clerks.
Software Developer
The RCC Computer Programming and Software Associate of Science degree is designed for students transferring to SOU's baccalaureate degree program in computer programming and software.
Landscaping
RCC's Landscape Technician program prepares students for entry-level positions in golf course management, landscape design and management, and landscape maintenance.
For more information about wages and job prospects visit the Department of Labor at www.bls.gov/ooh/most-new-jobs.htm.