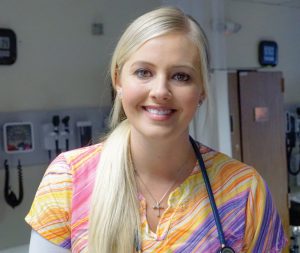 Life can take plenty of twists and turns. Sarah Reedy knows that firsthand. When she was 16 years old, her mom, Sheri Nottingham—a Rogue Community College employee—passed away unexpectedly. Sheri's best friend and coworker Pamela Peckham took Sarah under her wing and helped her get on track for a college degree in nursing.
"I decided to become a nurse after being in close contact with the nurses when my mom was in the hospital," Sarah says. "One of my mom's ICU nurses was an angel and she truly inspired me. From that moment on, I knew that I wanted to help people."
With Pamela's guidance, Sarah focused on obtaining college credits while still in high school, including taking night classes at RCC her senior year. This extra effort made it possible for Sarah to complete her Associate of Arts Oregon Transfer (AAOT) degree just one year after high school. Pamela then encouraged Sarah to continue her education in RCC's nursing program, where she earned her associate's degree in nursing before transferring to Oregon Health & Science University for her bachelor's degree.
"RCC felt like home to me," Sarah says. She spent most of her formative years visiting her mom at work, then attending classes and even working as a student employee in the same building where her mom once worked. "RCC was like family to us when my mom passed away. They kindly reached out to us in one of our darkest times. They even planted a tree in my mom's name. You wouldn't get that same experience at a larger college or university."
In 2013, Sarah joined the United States Navy as a naval nurse. Today she is stationed at Camp Pendleton in southern California where she is a Lieutenant in the Nurse Corps, caring for patients in labor and delivery as well as neonatal specialty care.
"I couldn't be more proud to be in the Navy and take care of our troops and their growing families," Sarah says. "RCC provided me the strong foundation that I needed to build my career as a nurse, and I wouldn't be where I am at today, personally or professionally, without RCC."