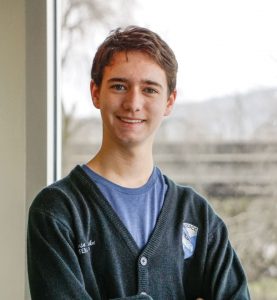 Kevin Kuhn plans to be a doctor. But first the Logos Charter School high school junior needs to earn his diploma and his college degree, which he's doing simultaneously at Rogue Community College.
Logos Scholars Academy is an early college program offering personalized education with college campus options for motivated students. One of the unique attractions of the Logos program is that high school students can attend classes full-time or part-time at RCC, earning credit toward high school graduation and an associate's degree or technical certificate at the same time.
"RCC offers our students a wealth of benefits, including a wide array of courses, knowledgeable instructors with life experience in their fields, small class sizes, expert librarians, top-notch science lab facilities and so much more," says Valerie Barr, Logos Scholars Academy director. "Together, Logos staff and RCC advisors help students make wise course choices that meet their educational goals and career interests."
Kevin agrees. Logos awarded him a scholarship, a "great sequence of math classes," and other general education courses.
"I'm certain that RCC will give me a strong foundation for when I transfer to Oregon State University and beyond on my personal journey," he says.
Kevin credits many of the RCC instructors and advisors for helping him immerse fully in the college culture, teaching him not only about the opportunities available on campus but also how to stay motivated and successful throughout his coursework. RCC staff members have helped Kevin modify his resume, optimize his class schedule, and even get involved in student government. As a student senator on the Riverside Campus, Kevin participated in all phases of the fall haunted house, including learning how to recruit volunteers, work within a budget, and collaborate with a team. Not bad for a kid who isn't technically a freshman yet.
"I am meeting many interesting people and have learned leadership skills during my time at RCC," Kevin says. "I feel that I am getting the best leap into my future."
Early college options are available to any high school student in the RCC district. Contact Educational Partnerships to learn more at 541-245-7806.